The year 2001 was a 'Fantasy'tic year for the world film industry, specially for the Hollywood. Two revolutionizing fantasy films 'Harry Potter and The Sorcerer's Stone' and 'Lord of the Rings: Fellowship of the Ring' were released in the same year. These two films were the highest grossing films of the year and also moved themselves up in the Highest grossing films of all time. Apart from the fantasy genre the other genre that got love from audience and the critics alike was the animation genre. Almost all the major animated movies released in the year 2001 were blockbusters. Japanese Anime movies also did good business. Interestingly it was not just Disney/Pixar Animation studios that produced animated movies with rave reviews but several other animation studios specially Dreamworks also got into limelight due to their work in animation genre.
Like 1999, the year 2001 also saw several twist ending mystery movies. Though the year 2000 also continued the mystery genre but 2001 worked way better for the mystery genre than the year 2000. The year 2001 saw release of several films that resulted in to decade long movie series.
The year 2001 is also known for holding a special record in Academy Awards History. The 74th Academy Awards held o honor the films released in 2001 made a unique record when Denzel Wahington and Halle Berry became the first pair of African American Actors to win Academy Award for Best Actor and Best Actress.
Here is the list of best movies released in the year 2001:
50. Evolution
---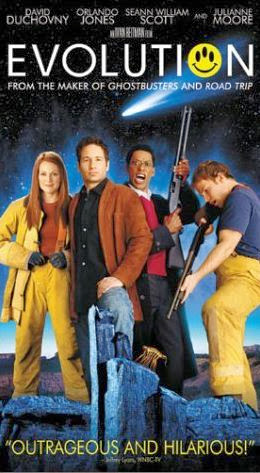 Director -Ivan Reitman
Cast -Orlando Jones,Julianne Moore,David Duchovny,Seann William Scott
IMDB Rating –6.1/10
Rotten Tomatoes –43%
Release Date -14 July 2001
Box Office –$98.4 million
Genre -Comedy,Sci-Fi
Awards -None
Plot –
49. Monster's Ball
---

Director -Marc Forster
Cast -Halle Berry,Mos Def,Billy Bob Thornton,Heath Ledger
IMDB Rating –7.1/10
Rotten Tomatoes –85%
Release Date -26 December 2001
Box Office –$44.9 million
Genre -Drama, Romance
Awards -Won 1 Oscar
Plot –
48. The Mexican
---

Director -Gore Verbinski
Cast -James Gandolfini,Julia Roberts,J. K. Simmons,Brad Pitt
IMDB Rating –6.1/10
Rotten Tomatoes –55%
Release Date -2 March 2001
Box Office –$147.8 million
Genre – Adventure, Comedy
Awards -None
Plot –
47. Rat Race
---

Director -Jerry Zucker
Cast -Whoopi Goldberg,Seth Green,Rowan Atkinson,John Cleese
IMDB Rating –6.4/10
Rotten Tomatoes –43%
Release Date -30 July 2001
Box Office –$85.5 million
Genre -Adventure, Comedy
Awards -None
Plot –
46. The Experiment
---

Director -Oliver Hirschbiegel
Cast -Andrea Sawatzki,Moritz Bleibtreu,Christian Berkel,Justus von Dohnányi
IMDB Rating –7.7/10
Rotten Tomatoes –72%
Release Date -7 March 2001
Box Office –US$11.6 million
Genre – Drama, Thriller
Awards -None
Plot –
45. Spy Game
---

Director -Tony Scott
Cast -Catherine McCormack,Larry Bryggman,Robert Redford,Brad Pitt
IMDB Rating –7.1/10
Rotten Tomatoes –66%
Release Date -19 November 2001
Box Office –$143 million
Genre – Action,Thriller
Awards -None
Plot –
44. Shallow Hal
---

Director -Peter Farrelly, Bobby Farrelly
Cast -Jason Alexander,Gwyneth Paltrow,Jack Black,Joe Viterelli
IMDB Rating –5.9/10
Rotten Tomatoes –50%
Release Date -1 November 2001
Box Office –$141.1 million
Genre – Comedy, Drama
Awards -NOne
Plot –
43. Legally Blonde
---

Director -Robert Luketic
Cast -Selma Blair,Reese Witherspoon,Victor Garber,Luke Wilson
IMDB Rating –6.3/10
Rotten Tomatoes –69%
Release Date -5 October 2001
Box Office –$141.8 million
Genre -Comedy, Romance
Awards -None
Plot –
42. From Hell
---

Director -Albert Hughes, Allen Hughes
Cast -Ian Holm,Johnny Depp,Jason Flemyng,Heather Graham
IMDB Rating –6.8/10
Rotten Tomatoes –57%
Release Date -17 October 2001
Box Office –$75 million
Genre -Horror, Mystery
Awards -None
Plot –
41. A Knight's Tale
---

Director – Brian Helgeland
Cast -Mark Addy,Rufus Sewell,Heath Ledger,Alan Tudyk
IMDB Rating –6.9/10
Rotten Tomatoes –58%
Release Date -2001
Box Office –$117.5 million
Genre -Adventure, Romance
Awards -None
Plot –