Akatsuki No Yona Season 2 is in talks since March 2015. But there are no actual reports of the series moving forward. This fan page is to bring notice to Pierrot studio and Funimation that how desperately we fans want season 2 of Akatsuki No Yona.
Should Yona of the Dawn Season 2 Happen?
Yes, It Does.
Any list of best Shojuo anime series is incomplete without the inclusion of Akatsuki No Yona aka Yona of the Dawn. Akatsuki No Yona became the most popular anime series of 2014.
Yes there are many other Shojuo anime series like Kaichou wa Maid-sama! and Kimi Ni Todke but the story of Yona is yet to be brought to climax.
But What is Yona of the Dawn?
First of all for those anime fans who have not seen Akatsuki No Yona – If you like Revenge anime this is it for you.
Game of thrones is one of the most popular TV series in the world and it would be easy for me to draw parallels between Akatsuki No yona and GOT to show how beautiful this anime is.
Yona the central character of Yona of the Dawn is in many ways similar to Daenerys Targaryen. Both of them are betrayed and left as a vulnerable character in the cruel world. However, both of them turn odds in their favour and turn out to be the strongest character in the series.
Yona of the Dawn is based on the manga series Akatsuki no Yona penned by female artist Mizuho Kusanagi. Mizuho published the first manga back in 2009 and ever since then she has written 137 chapters in 23 volumes. She took hiatus in 2016 because her town was hit by earthquake. However she returned to the series with new twists.
Yona of the Dawn tells the story of a young princess named Yona. She is the daughter of King II and the sole heiress of the kingdom of Kouka. Yona is in love with his childhood crush Soo-Won. The boy too shows affection for Yona.
On her sixteenth birthday, Soo-won betrays Yona and kills his father. He was about to kill Yona too but she is saved by her bodyguard Son hak.
Hak takes her to the forests far away from Kingdom. The duo finds Ik-soo (an old priest) who tells a prophecy that Yona can become the queen if she finds and enlist four dragon warriors.
The Four dragon Warriors are – Kija (White Dragon), Shin-ah 9blue dragon), Jae-ha (Green Dragon) and Zeno (yellow dragon). We are shown backstories of each dragon (except Zeno) in Season 1 of Akatsuki No Yona.
Hak is just like Jorah Mormont (only younger). Jorah has feelings for Daenerys but he never tells her and protects her at cost.
Hak is very much protective of Yona and is in love with her since childhood. However, he never tells his feelings to Yona. He wished Yona and Soo-wan to marry, who was his good friend before betrayal.
Why Yona of the Dawn Season 2 Should Happen?
Akatsuki No yona beautifully shows that how a young naïve girls become a powerful woman. What you would love about the series is not just the story and characters but even the background music and soundtrack as well.
There are very few anime series who have beautiful instrumental music and Akatsuki No Yona is one among them.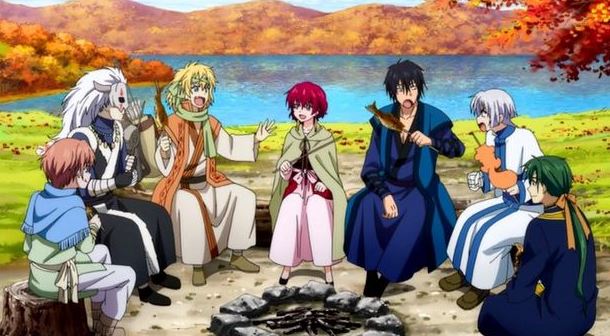 Season 1 of Akatsuki no yona consisted of 24 episodes and there were many rumors regarding Akatsuki No Yona Season 2. Fans were hoping for another season of Yona of the Dawn with atleast 12 episodes but the hopes were crushed when Pierrot standalone OVA (original video animation) in 2016.
The three OVA were released in 2016 and they showed the backstory of the yellow dragon, Zeno. So does this mean we should not expect Akatsuki No yona Season 2?
If Pierrot does not come back with second season of Akatsuki No yona then they would surely be disappointing millions of fans around the globe.
Possibility of Yona of the Dawn Season 2 Premiere
The first season of Akatsuki No Yona only adapted 8 volumes out of the 23 volumes of manga series. So Pierrot surely have a good amount of source available for season 2. In fact Pierrot can easily produce Akatsuki no Yona Season 2 along with 2 more seasons.
If reports are to be believed Pierrot wants to return with Akatsuki No yona Season 2 but they are right now more focused on other anime series including Tokyo Ghoul.
Yona of the Dawn will see second season but not very soon. Let's hope we see Akatsuki No yona Season 2 by fall 2019.
Also Read: Young Justice Season 3